With a varied repertoire infused with hot Latin rhythms, Grupo Cha Cha is ready to entertain with the best live music for your Chicago-area party or special event.
We perform the best in Latin Jazz, Cha Cha Cha, Afro-Cuban, and Brazilian music intertwined with a touch of Rhythm and Blues.
The only Chicago Latin Jazz band fronted by two lovely ladies who sing and play instruments, Grupo Cha Cha excites and entertains groups large and small at events throughout the area.
Visit our new website: www.grupochacha.com
Purchase Grupo Cha Cha Music:http://www.cdbaby.com/Artist/GrupoChaCha1
Hire The Most Fun and Versatile Band in Chicago!
Trying to find a band to entertain at your special event? The talented musicians of Grupo Cha Cha produce the absolute best in Latin-infused live music for parties, receptions, corporate events, and many other special occasions.
Specializing in playing a variety of fun Latin-inspired sounds, we're a seven piece band led by flute/sax player Lise Gilly.
Because our full lineup includes keyboard, bass, Latin percussion, drums, and vocals, we're the perfect band to get the party going! But, depending on the requirements of your event, Grupo Cha Cha can also provide trios or quartets in lieu of the full band.
The Cha Cha Cha musical style developed out of the combination of several cultural backgrounds, including the suave French quadrille and the rhythmically powerful Cuban Son. Likewise, Grupo Cha Cha brings a wealth of musical diversity to the audience through their unique performances. Our musicians can skillfully play a variety of styles, including:
Latin/American Rock & Blues
Cha Cha Cha
Latin Jazz
Mambo/Salsa
Brazilian Samba / Bossa Nova
and more!
Tell us what you like! Depending on your event, we can emphasize one musical style over another, or just mix it up.
Get Up and Dance! (Or not.)
Of course, with a name like Grupo Cha Cha, you can trust that we're the perfect band to get people moving at your party. Our talented and entertaining musicians know just how to get your guests on their feet with a mix of fiery Latin music styles.
But as much as we love to dance, we can also provide the perfect live background music for your more toned-down affair. With our easy blend of exotic and jazzy sounds, Grupo Cha Cha will deliver delightful ambience that is smooth, but not sleepy.
Sample Tracks
Vamos a la Playa–Salsa
Audio clip: Adobe Flash Player (version 9 or above) is required to play this audio clip. Download the latest version here. You also need to have JavaScript enabled in your browser.
Partido Alto–Upbeat Brazilian Music
Audio clip: Adobe Flash Player (version 9 or above) is required to play this audio clip. Download the latest version here. You also need to have JavaScript enabled in your browser.
Golden Earrings–Cha Cha Cha(Sex in the City Music)
Audio clip: Adobe Flash Player (version 9 or above) is required to play this audio clip. Download the latest version here. You also need to have JavaScript enabled in your browser.
Corcovado–Brazilian Bossa Nova
Audio clip: Adobe Flash Player (version 9 or above) is required to play this audio clip. Download the latest version here. You also need to have JavaScript enabled in your browser.
Around Town
Grupo Cha Cha has played public and private events in many well known venues around Chicago.
Among our many highlights of the last year, we were honored to open the 2010 Chicago Latin Jazz Festival on July 9, 2010.
We have also been featured on:
"The Place for Jazz" 90.9 WDCB
Miles Ahead Jazz with Neil Tesser 1240 AM
live broadcasts on 88.3 WZRD in Chicago
"The Latin Style of Jazz" on CRN Digital Networks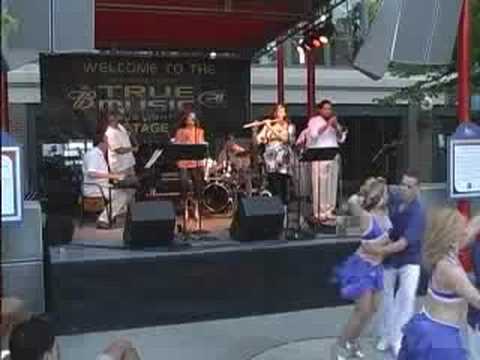 Playlist
Salsa/Mambo/Son Montuno:
Bilongo
Cachita
El Cuarto de Tula
Flight to Jordan
Mi Tierra
Moliendo Café
Quimbara
Pa' Gozar
Philadelphia Mambo
Solo Con mi Pena
Son de la Loma
St. Thomas
Latin Rock/American Rock/Blues:
Black Magic Woman
Chameleon
Don't You Worry 'Bout a Thing
Killing Me Softly
Oye Como Va
Red Clay
Senor Blues
Stand By Me
Tequila
Cha Cha Cha, Guajira and Danzon:
Almendra
Cantelope Island
Golden Earrings
Guantanamera
Morning
Quizas, Quizas
Rico Vacilon
Song for My Father
Watermelon Man
Yerbero Moderno
Brazilian Samba/Bossa Nova
Agua de Beber
Antigua
Bebe
Black Orpheus
Corcovado
Favela
Gentle Rain
The Girl from Ipanema
Look Towards the Sky
My Little Boat
Stoneflower
Tico Tico
Triste
Wave
Boleros:
Besame Mucho
Como Fue
Cosas del Alma
Flamingo
Lagrimas Negras
Obsesion
Sabor a Mi
Cumbia:
El Pescador
La Pollera Collera
Manha de Carnaval
Merengue:
Compadre Pedro Juan
El Sancocho Prieto